Kindergarten Families: Tomorrow will be our last Remote Learning drop off. It will be from 1PM-6PM in the bus garage. If you ordered a yearbook, it will be available tomorrow as well. The following items will need to be returned: *Any library books *iPad if one was provided *Completed learning materials

This is a reminder that the final packet drop-off is Friday, May 15th, from 1-6pm. Parents/Students in all buildings should enter from Main St, where you will be directed to the bus garage. Because all SES students have paper packets to return and all SMS/SHS students will be handed PE and Locker belongings, every student should have someone attend. Please be sure that students and teacher names are written on assignments. All remaining textbooks, library books, and school-issued athletic uniform items should be turned in. Students in 3rd through 11th grade may keep their iPads over the summer, but you may turn them in if you are moving or simply don't want to keep track of it over the summer. 2019 SHS Yearbooks and 2020 SMS/SES Yearbooks and Knights Action Park tickets may be picked up. Freshmen can pick up class rings from Jostens from 1-2pm in the bus garage drive through as well.

The Alpha Phi Chapter of Alpha Delta Kappa, an international honorary organization of women educators, is offering a $500 scholarship. An applicant must be a junior or senior in college, or a graduate student in the field of education. Questions concerning the application can be directed to Ellen Feeler at 259-4722. The deadline for the application is May 20, 2020. Find the application at the following link:
https://5il.co/fvm7

Congratulations to Katherine Kite on signing with Elmhurst College to compete in cross country and track! #onetribe!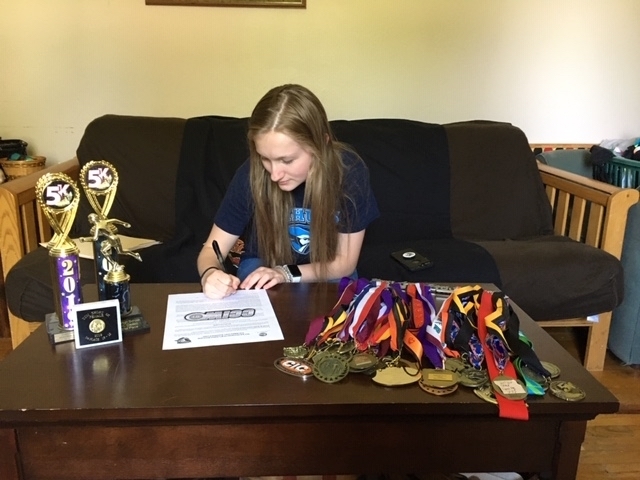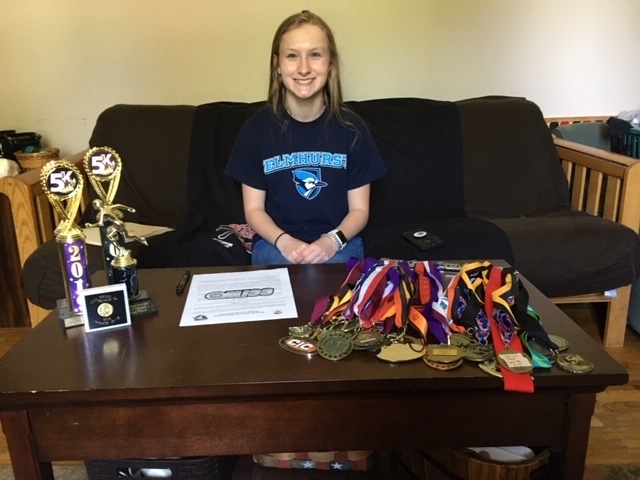 Students and Families-Help us say THANK YOU to our amazing Sullivan teachers and staff for all that they do! #onetribe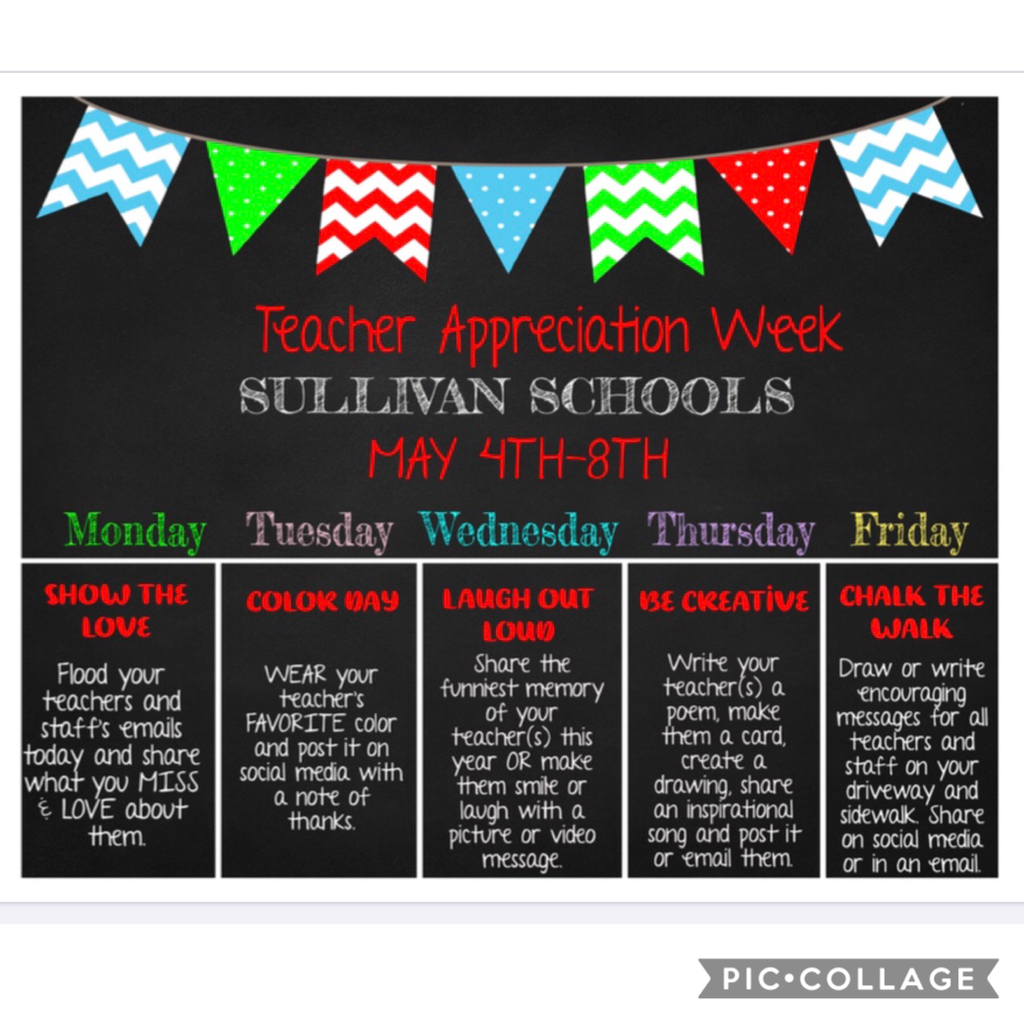 Meal Update: There will be no meals served on May 22nd and May 25th. Apart from this, rural and town meal delivery will continue through May without changes. Starting May 1st, meals will be available from the SES kitchen each day, Monday through Friday, from 9-11am. We plan to continue serving meals through at least June 30th with delivery options, but the process will change in June and be communicated to families. It is not too late to be added to meal distribution. If you would like to receive meals, please send an email to:
meals@sullivan.k12.il.us

Medications for students in all 3 buildings will also be available in the bus garage as well.

There is a location change for tomorrow's Learning Packet Pick-Up from 1pm-6pm due to weather. Materials for students in all buildings will be picked up and dropped via a "drive-through" in the bus garage. Everyone should enter school grounds from Main Street and will be directed to the bus garage.

The Sullivan School District was proud to be a part of the #Bethelight campaign this evening in honoring our Senior Class of 2020 and all first responders! #onetribe!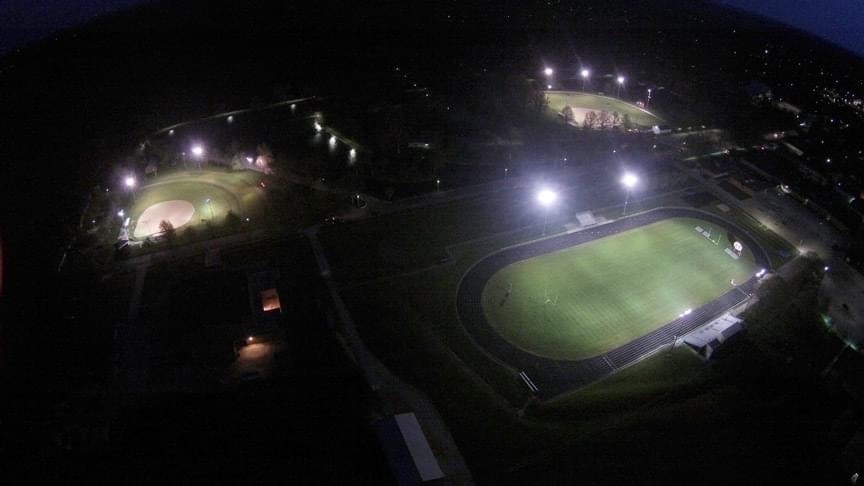 Thank you to Ed Moody and the city of Sullivan for recognizing our seniors and the first responders by lighting the baseball and softball fields to go along with our football field this evening!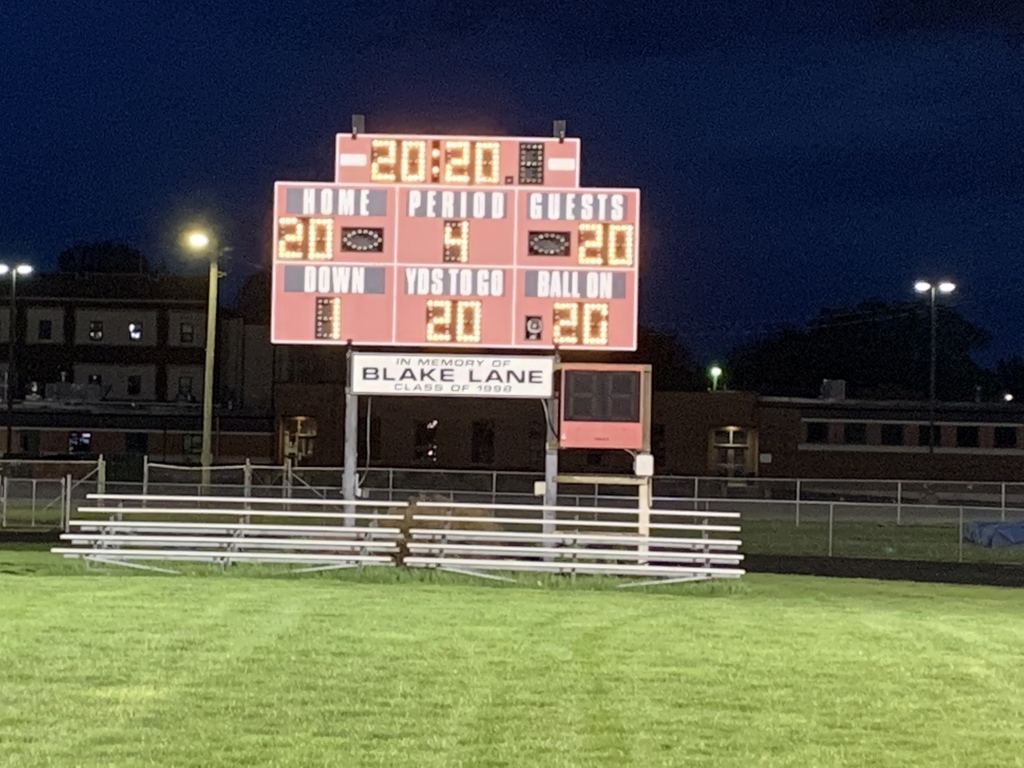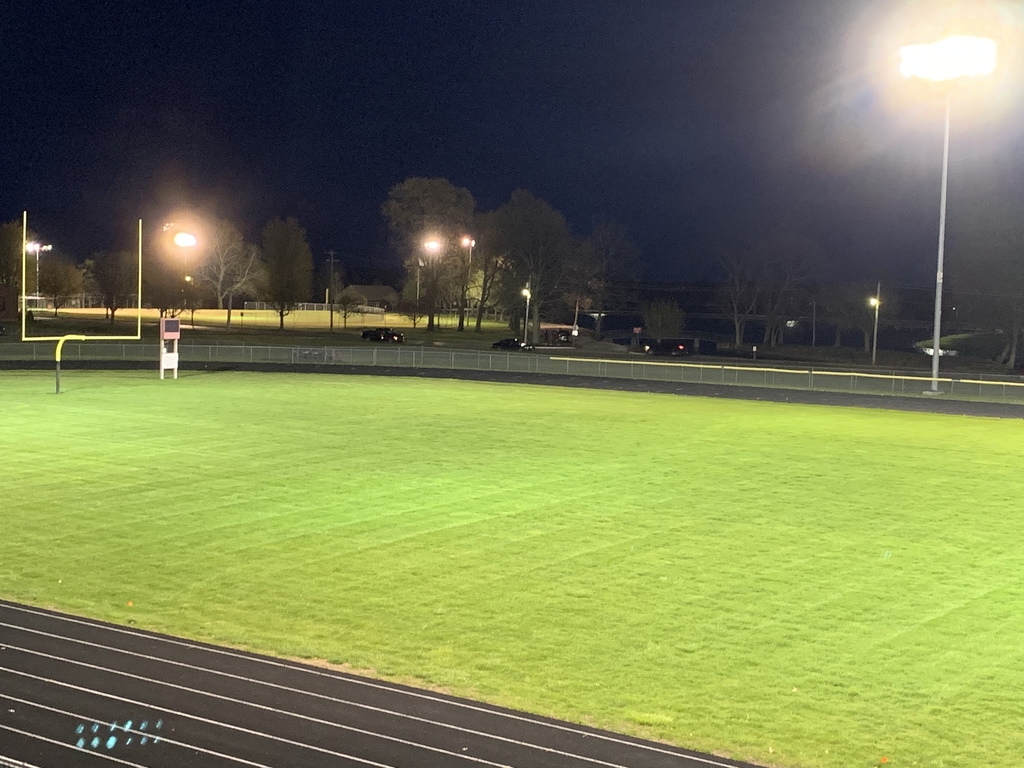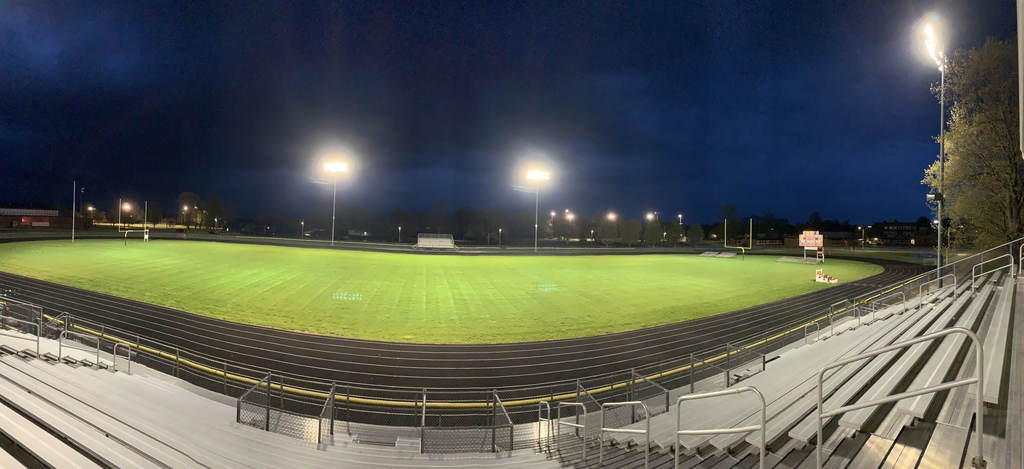 In honor of the graduating seniors and first responders, Sullivan High School will turn on the football field lights from 8:00-8:20 PM this Friday April 24th for anyone that wants to drive by. The back parking lot will be closed.

Due to the IHSA cancelling the spring sports state series yesterday, spring sports athletes (as well as any student that has a school issued uniform from a previous sports season this year at the 5th/6th grade, middle school, and high school levels) needs to turn their uniforms in at the next packet pick up/drop off on Tuesday April 28th from 1:00 to 6:00 PM in the SHS back parking lot. Please be sure to have your uniform items in a bag and a piece of paper with your name on it inside the bag to make the drop off and collection process efficient.

A message from Superintendent of Sullivan Schools, Ted Walk: Governor Pritzker has announced that all public schools in Illinois will be closed for the remainder of the academic year. It is truly heartbreaking that we will not be able to interact with our students as we normally would again this year. The Sullivan School District remains committed to serving our students and community throughout these unprecedented times. While additional information may cause modifications to our plan moving forward, we did want to update our students, parents, and community with the following tentative information. On Tuesday, April 28th, there will be another learning packet drop-off and pick-up from 1pm until 6pm. This will be the final learning packet pick-up. The final packets will be due on Friday, May 15th. Tentative final grades will be posted by Wednesday, May 20th. For our seniors only, the final learning packet will be due on Friday, May 8th. This will allow for materials to be quarantined for the appropriate time before being graded before graduation. Details are being finalized for a graduation event, likely a car parade, that will occur on Sunday, May 17th. In addition, the Sullivan School District is committed to providing a traditional, formal graduation ceremony when we are permitted to do so. Tentative graduation dates are Sunday, June 28th or Sunday, July 26th. We are also planning a virtual Awards Night on Wednesday, May 6th, and a virtual Decision Day Ceremony on Friday, May 15th. We are tentatively rescheduling Prom for Saturday, June 13th, with a contingency date of Saturday, July 18th. We are also rescheduling the SMS 7th/8th Grade Spring Dance on Friday, June 12th, with a contingency date of Friday, July 17th. Our Meal Program will continue through the month of May (though the dates may change slightly around Memorial Day weekend). We are also looking at options that continue into the summer, though these would be dependent on a number of factors that have yet to be determined. Although a final decision will be made by the IHSA next week, it appears likely that all Spring athletic activities will be cancelled. Because we will have additional steps on our end to treat uniforms, we ask that these uniforms, or any uniforms from previous seasons, be returned on the April 28th learning packet pick-up and drop-off date. There are a number of items that are very much on the minds of our community and our school personnel that still do not have answers. Summer school or additional summer support will be determined as more information becomes available. We are also looking at best practice for locker cleanout. A date for Kindergarten Orientation is yet to be set. Additionally, decisions regarding summer camps and open gyms are still to be determined. This is an ending to a school year unlike any that we could have imagined. Though we have planned for the end of the school year, there is still so much learning that is yet to take place. I continue to encourage all students to try their best. I continue to urge all parents to help to the extent you are able, but I want you to understand that we will have protocols in place over the summer or in the fall to help make certain your students continue to see the academic success that we expect from students at Sullivan Schools. Please be safe and continue to support our wonderful community in trying times such as these.

The Sullivan School District understands the financial challenges that families may be enduring due to possible loss of jobs or reduction of hours. Families may apply for free or reduced price meals at any time during the school year. Although meals are currently being provided to all children free of charge, the Illinois Department of Human Services will be implementing the Pandemic EBT (P-EBT) which will provide extra funding to families who have children who qualify for free or reduced-priced meals. If your circumstances have recently changed, please don't hesitate to apply for the free or reduced price meal program. You may apply through Skyward, selecting Food Service and then choosing the Application tab at the top of the page. The deadline for application for the P-EBT funding is tomorrow, Friday April 17. If you have questions about the application or need assistance in completing a paper application, please contact Becky Batman tomorrow between 1-3pm at (217)728-8341, and she can assist you through the process. Thanks for your continued support of Sullivan Schools!

Kindergarten Orientation scheduled for tonight at SES has been postponed for a later date. When this date is set we will reach out to families. Stay healthy!

This is a reminder that there will be no school meals served on Friday, April 10. Additionally, we are implementing a few new protocols to limit our staff and community exposure while continuing to provide fresh meals. Starting next week and moving forward, the Town Meals and Kitchen Pick-Up Meals will be offered only on Tuesday (3 meals) and Friday (2 meals). Rural meals will continue to be delivered on Mondays and Thursdays with no changes. We apologize for the changes and hope to be able to maintain this schedule for the duration of the closure. We will have our Learning Packet Drop-Off and Pick-Up on Tuesday, April 14. from 1-6pm. Once again, SES students will drop off and pick up materials on the west side of SES, and SMS/SHS students will drop off and pick up items at the Commons. We hope that you are staying safe and healthy. We miss our kids and look forward to the time when we can see them again. Please continue to do your best, but do not hesitate to reach out to teachers with questions. Thanks for your continued support of Sullivan Schools!

Students, if you are having issues with your iPad - such as missing apps or missing Mosyle manager, you can use this link to report the issue:
https://forms.gle/B9kTLgmHChxzaw3u7
Thank you, Mr. Waelde

Monday morning message from SES staff!!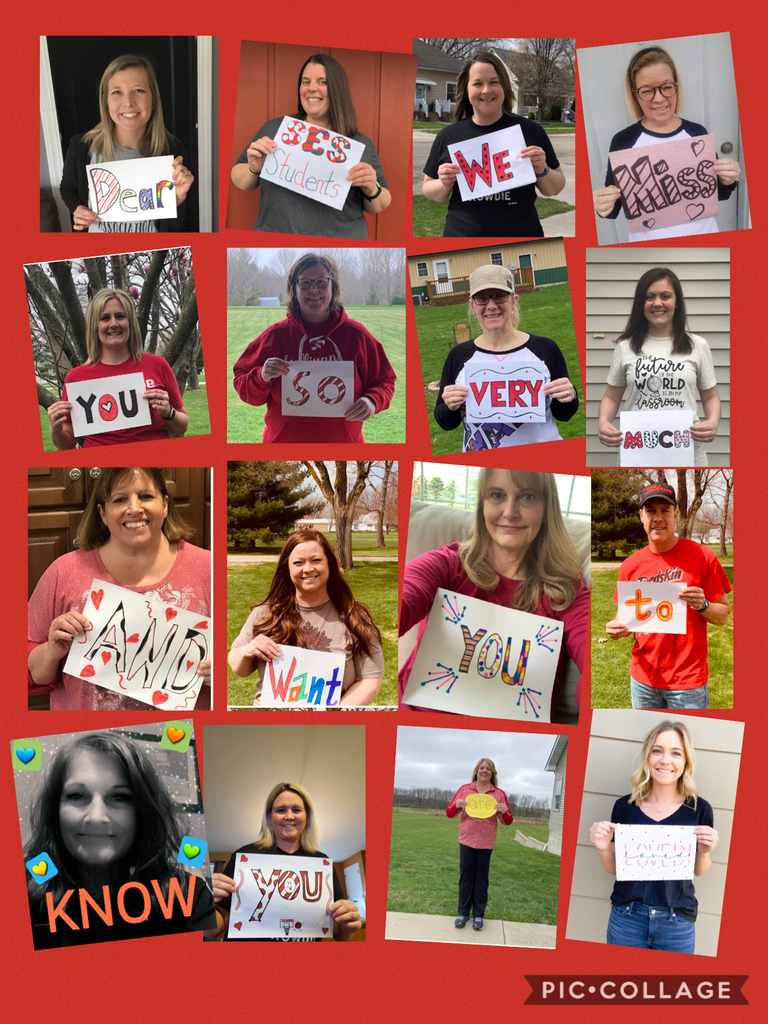 Just a reminder that Rural Meals are being delivered today. In an effort to maintain the health of our staff and community, our personnel will be leaving meals by mailboxes, sidewalks, or other landmarks, as opposed to handing to individuals. We wish we could be giving hugs, high fives, and handshakes, but we want everyone to be safe!

Governor Pritzker has just announced that all Illinois Public Schools will remain closed through April 30th. There will be learning packet drop off and additional packet pickup on Tuesday, April 14th from 11am to 6pm. We will keep you updated as information becomes available. Thanks for your continued support of Sullivan Schools!