Come and join the Sullivan School District Team!!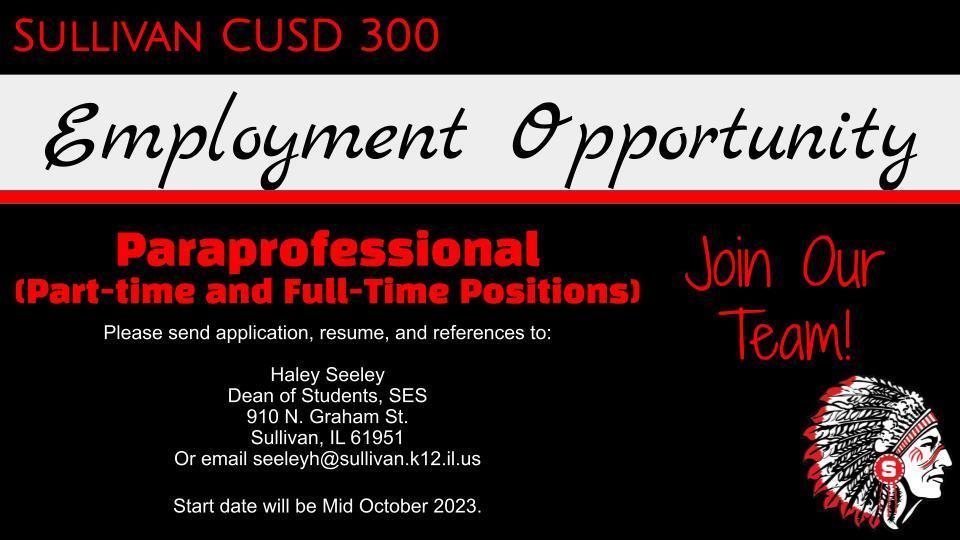 We would like to welcome the community to our SES Open House this Thursday evening (9/14) from 6:30 - 7:00 p.m. to walk through the new addition at Sullivan Elementary School.
SHS Athletics going on this week!
This beautiful new scoreboard unveiled Friday would not be possible without the help of our incredible sponsors, but also with the help of countless volunteer hours. The entire community came together to make this possible! Led by the herculean effort of Kevin Landrus and Mark Waelde, the project came together incredibly quickly and will be part of our football landscape for years to come!  Thank you to all those who volunteered their time or services! Josh Born Don Typer Luke Standerfer  Korey Wiley Adam Collins Dustin Lane Dustin Wallace Shane Fultz Cody Bonebrake Chase McClure Jake WIlson Tyson Grooms Jason Moody Josh Green John Standerfer Dave Wilson Tara Standerfer Levi Nadler and Nadler Electric LJ Vincent Seth Sawyer Jim Palmer Caleb Smith Bill Johnson Mr Allen Mr Ogle Mr Huber Laurrie Minor Lidy Signs & Graphics Metro Communications - Warner Bradley, Ryan Caldwell, Jake Walton, and Brandon Clawson If any names were missed, we sincerely apologize and thank you for all that was done for the scoreboard!
We had a great group of FFA members visit the Farm Progress Show for opening day! Thank you so much to Elizabeth Houser with Country Financial for donating our tickets! Our students are very fortunate to get to learn from hundreds of leading global agribusinesses so close to home. This is always a great trip to start of the school year!
Fryman scores touchdown, game tied at 13.
The Sullivan CUSD #300 track will start the process of being resurfaced tomorrow, 6/15/23. Please be advised that there will be no access to the track until further notice. Thank you for your understanding!
Correction to the previous basketball camp post: tomorrow (Tuesday) is the last day to sign up for boys basketball camp and guarantee a tshirt. Walk-in's will be welcome to camp! See flyer for details!
Tomorrow is the last day to sign up for boys basketball camp! See flyer for details!
Boys basketball camp is coming up! Make sure you get registered by June 6th - see flyer for details!
Please click the link for our final eNewsletter for the 2022-2023 School Year!  Have a great Summer!
https://5il.co/1vhio
There are opportunities to join our amazing team in all three buildings!!
Sullivan Middle School items will be auctioned off on June 3rd, everything must go! Desks, cabinets, drinking fountains, benches, hoops, scoreboards, and more! Walkthrough at 7:30, walking auction begins at 9:00 am! Come out and get your piece of history!
Boys basketball summer camps dates are set! June 19-22 for all boys entering grades 2-9! See the flyer for additional details!
The Sullivan School District's 2023-2024 school calendar is available to view at the following link:
https://5il.co/1ukp9
These are dates that all Sullivan CUSD #300 schools share. Other calendars with various events by building will be shared at a later date.
There are opportunities to join our amazing team in all three buildings!!
Due to the chance of inclement weather, we plan to hold the Senior Sunset in the elementary school gym this evening at 7. If it is not raining at the time, we will still go outside to watch the sunset. This event is for students and staff.