Congratulations to Brett Bushue who was selected as the State FFA Proficiency Winner in Equine Science Entrepreneurship! Illinois FFA recognizes students in forty-eight different areas based on their work-based learning, also known as Supervised Agricultural Experiences or SAE. FFA members who demonstrate outstanding agricultural skills and competencies through record keeping, leadership, and scholastic achievement may be considered for this award. SAEs allow students to learn by doing by either owning and operating an agricultural business, working or serving an internship at an agriculture-based business or conducting an agriculture-based scientific experiment and reporting results. Receiving this honor now makes Brett eligible to compete in the National FFA Awards Selection process in July. Brett was previously chosen as the Chapter, Section and District awardee is this area! We are so proud of his hard work!
There is an immediate opening for a paraprofessional position!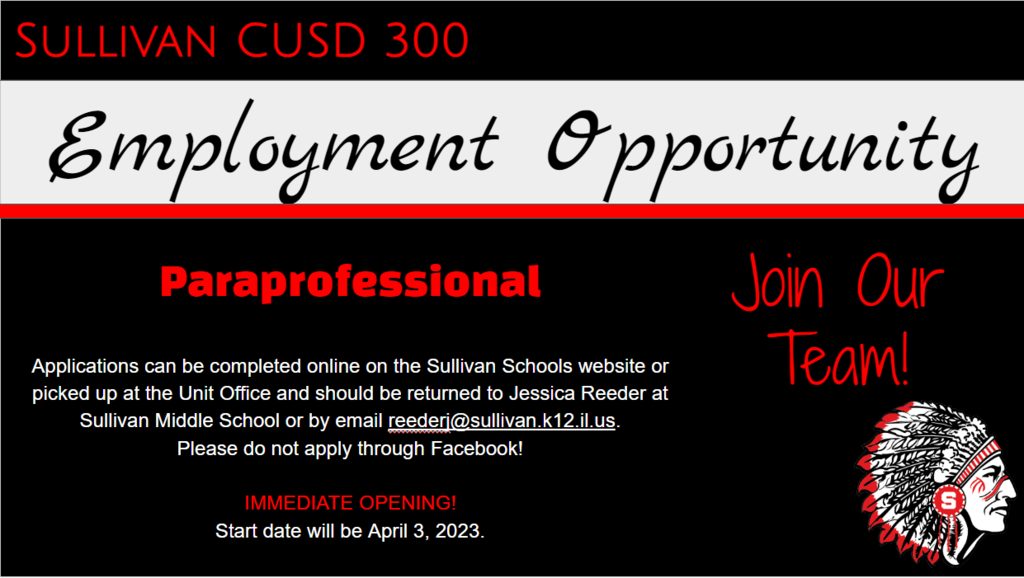 Our Sullivan FFA members would greatly appreciate your support tomorrow evening!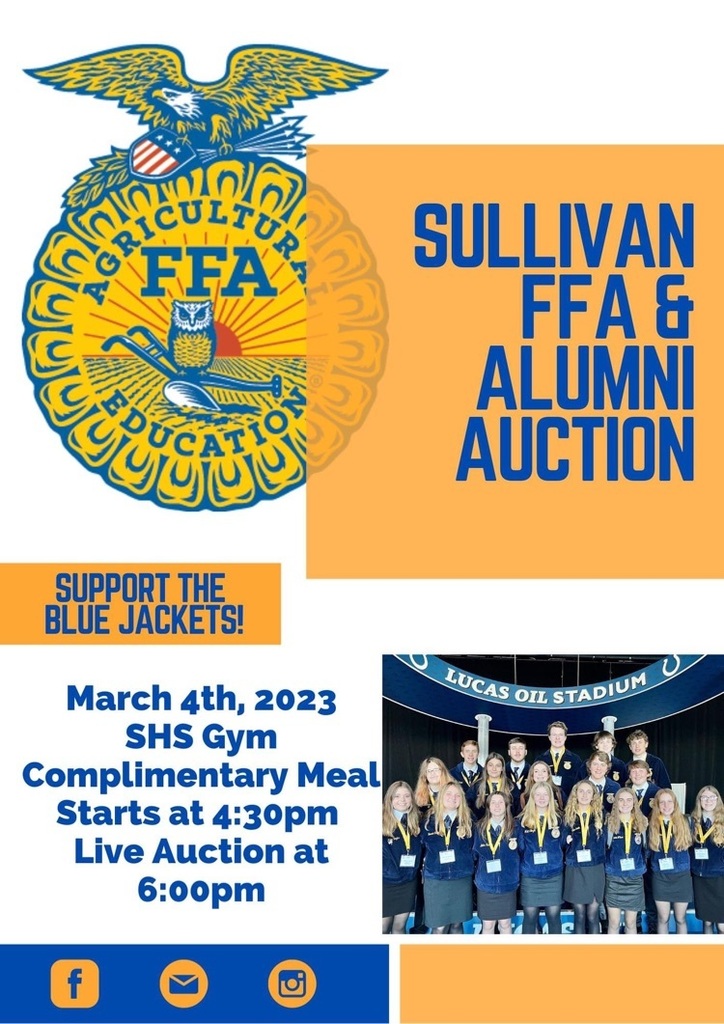 Our FFA members would greatly appreciate your support this evening!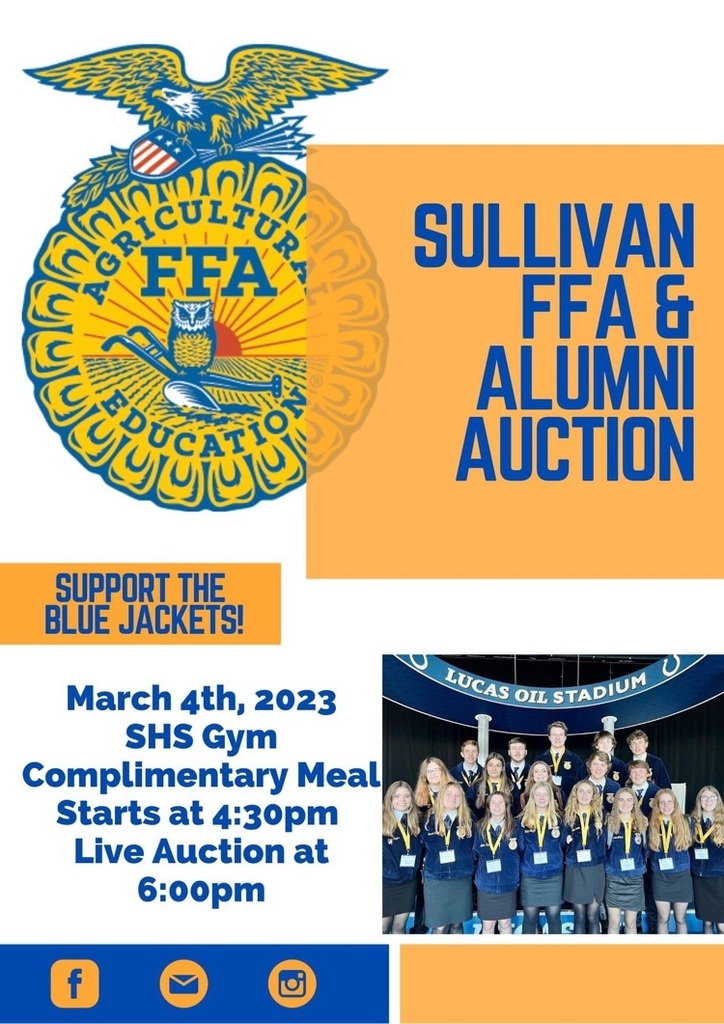 For SMS Dismissal, Magill Street will be closed. All SMS students will exit at the Main Entrance facing Main Street. Traffic will need to procced north on Main and around Wyman Park to exit.
Join our fantastic team for the 2023-2024 school year!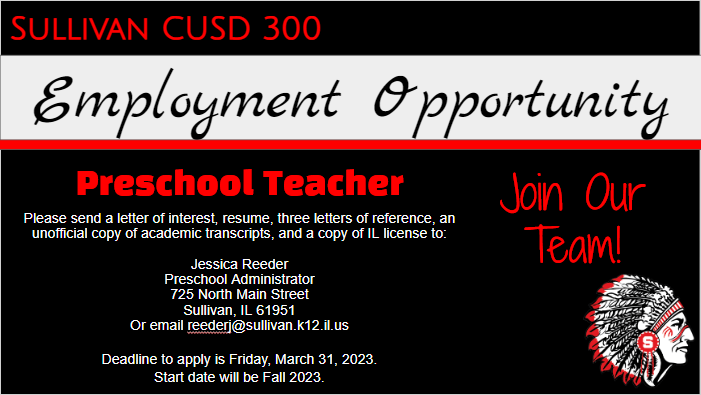 On Monday, February 27, Sullivan Schools will be hosting a Community Forum at 6:30pm in the Middle School Gym. There will be an update and brief presentation on the progress of the Sullivan Elementary School addition as well as information about the upcoming construction of the new Sullivan High School. A tentative floor plan and architect renderings of the high school will be shared with the community, and there will be an opportunity for Q&A. The public is encouraged to attend this meeting to learn more about the future facilities of Sullivan Schools.
The 4-6 Future Redskins Basketball Tournament will start this Saturday, 2/18 at 8:00am in the SHS/SMS gyms. See the attached bracket for game times.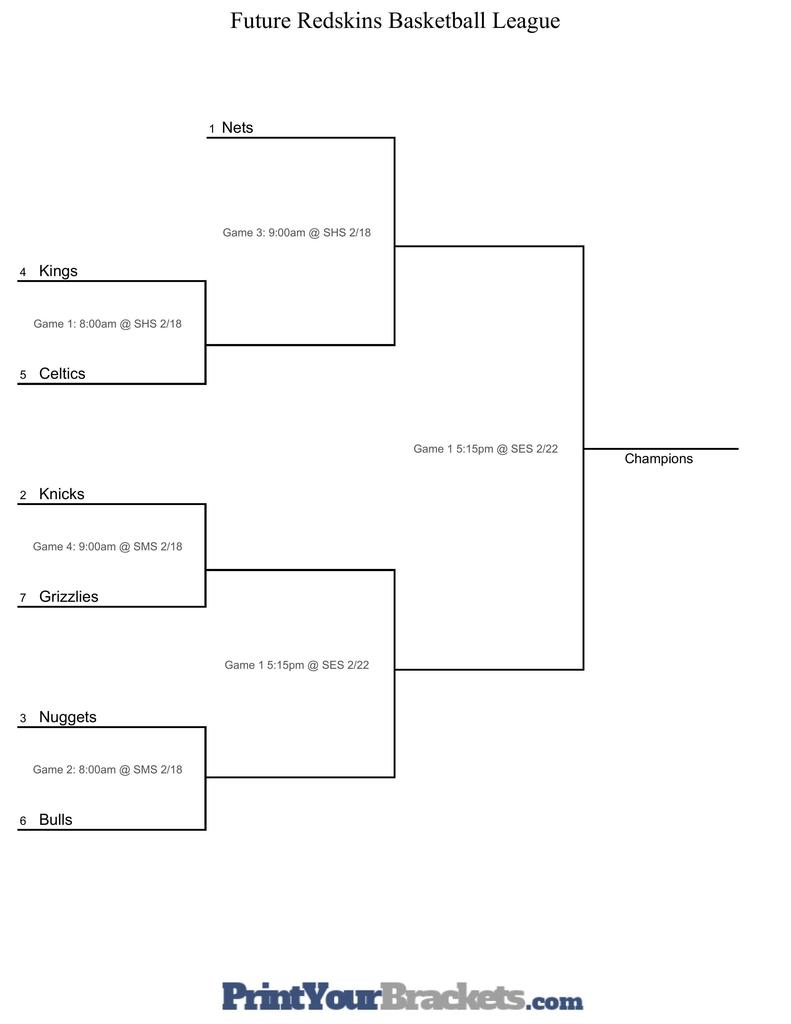 Sophomore Parents-Sophomore athletes received a packet on a free heart screening program by Sarah Bush on 3/4. If you would like to participate, complete the form & call Sarah Bush to set up an appointment! If you did not receive a packet & want to participate, contact the office
4-6 Future Redskins Week 3 Games (1/28): Kings v Nets 8 am @ SHS; Grizzlies v Nuggets 8 am @ SMS Bulls v Kings 9 am @ SHS; Celtics v Knicks 9 am @ SMS Game Schedule (All at JV Halftime): 2/7 Knicks v Kings 2/9 Bulls v Celtics 2/14 Nets v Grizzlies 2/16 Nuggets v Kings
This is Ted Walk, Superintendent of Sullivan Schools. Due to forecasted inclement weather, Sullivan Schools will not be in session on Wednesday, January 25th. Stay safe!
The Lady Redskins take on Shelbyville tonight! at 7:30 at Warrensburg-Latham in the 2nd round of the CIC Tournament! The Redskins will take on Tuscola at 6:00 on Saturday in their opening matchup of the CIC Tournament at St. Teresa! Full bracket is attached!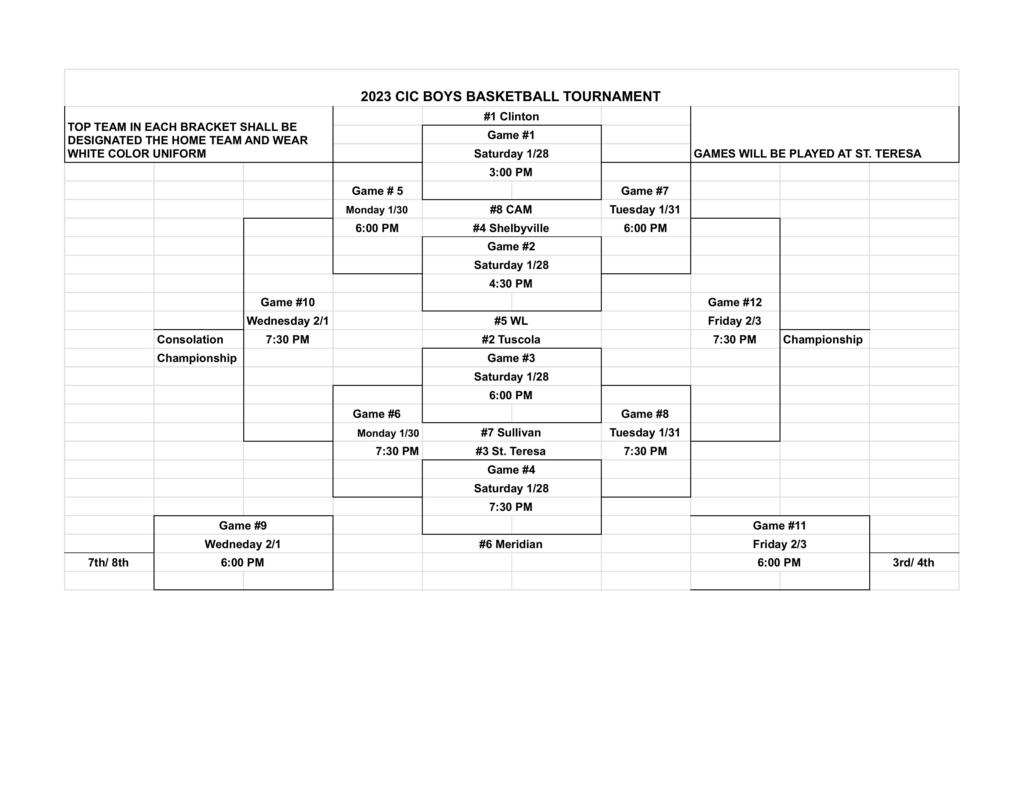 Check out the events happening at SHS this week, 1/23-28!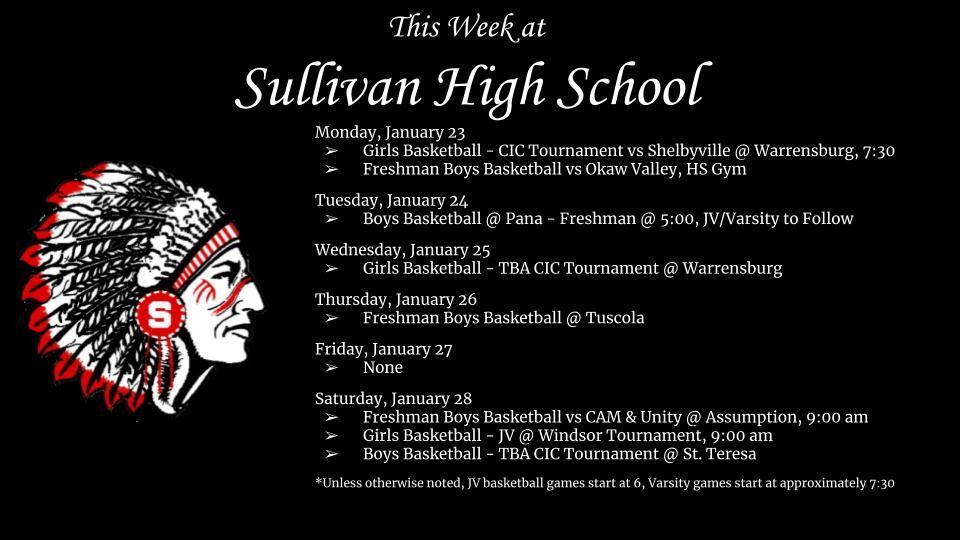 4-6 Future Redskins - Week 1 games will be played this Saturday, January 14th @ SHS/SMS. See attached for team rosters and season schedule.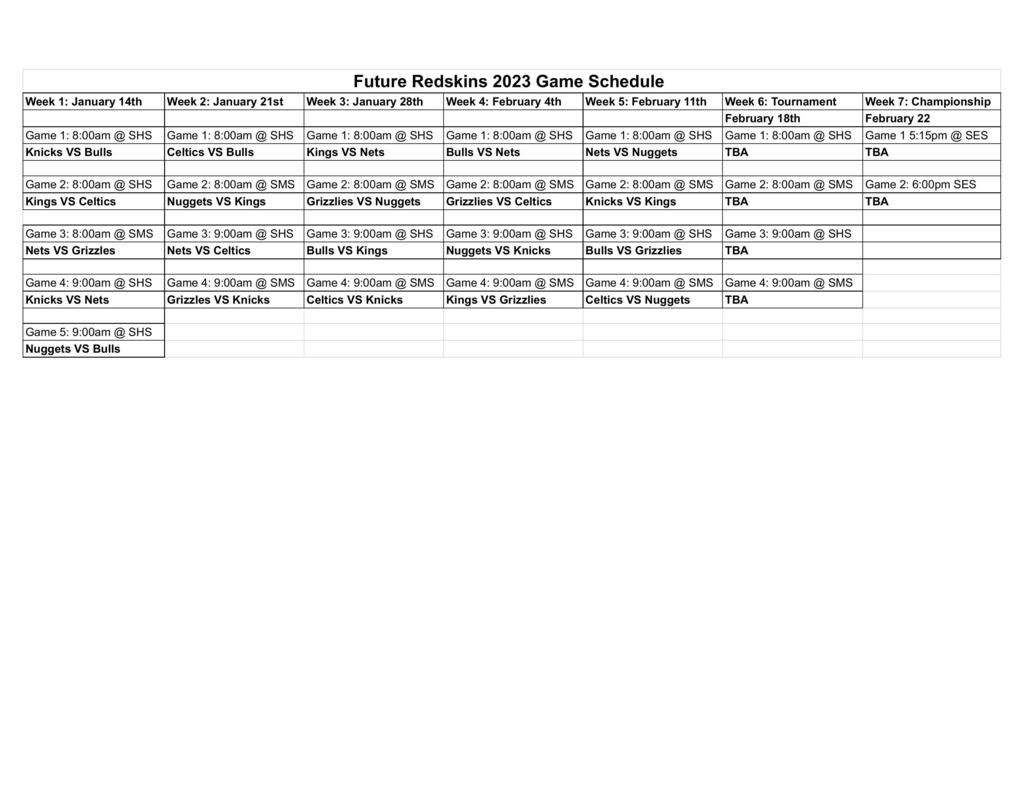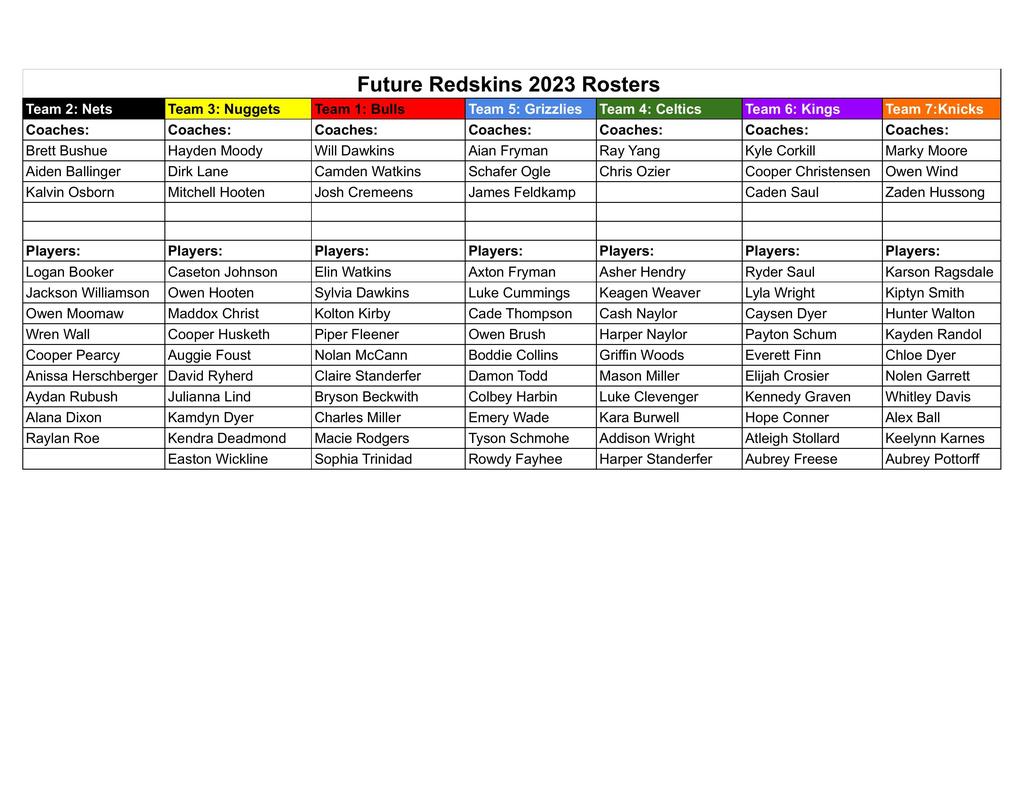 The JV/Varsity Redskins are back in action tonight to start off 2023 at home! They take on Maroa-Forsyth, JV tips off at 5:30 pm! Come out and support the team!
Boys & Girls in grades 4-6 can participate in the Future Redskins basketball league! First practice is January 4 - see the flyer for details!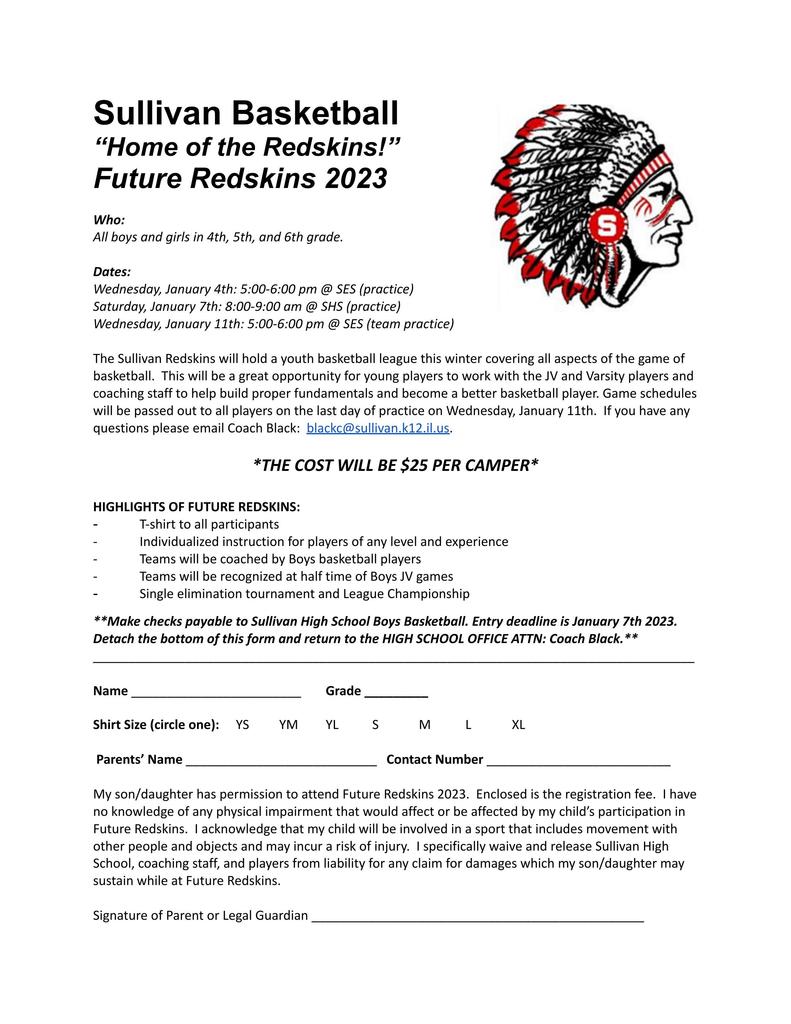 The Redskins & Lady Redskins will be competing in tourneys over the holidays! HS Boys @ Dieterich - 12/26 @ 7 pm, 12/27 @ 1 pm & 4 pm, 12/28 TBA HS Girls @ Mattoon - 12/27 @ 1 pm & 7:30 pm, 12/28 @ 8:30 am & TBA, 12/29 TBA. Livestream @
www.youtube.com/@MHSGreenwaveTV/streams
Don't forget to sign up for Grades 4-6 Future Redskins! Wed, 1/4: 5-6 pm @ SES (practice) Sat, 1/7: 8-9 am @ SHS (practice) Wed, 1/11: 5-6 pm @ SES (practice). Game schedules will be passed out on the last day of practice. Any questions please email
blackc@sullivan.k12.il.us
.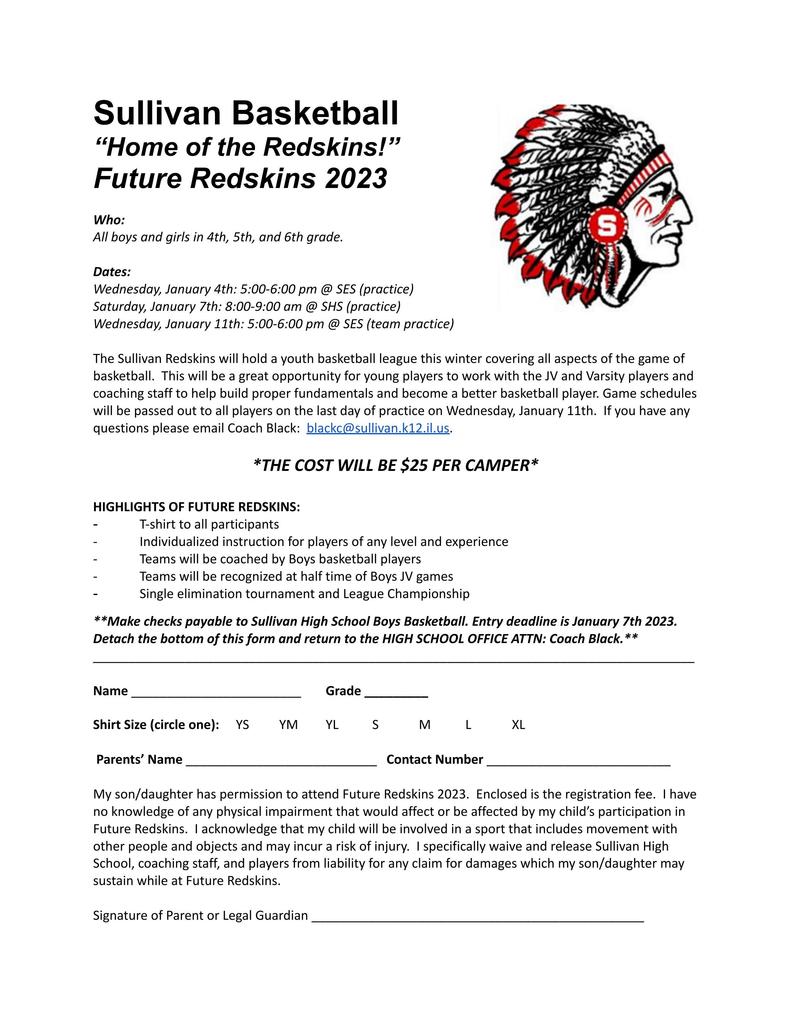 Lots of HS Basketball this weekend at home! Tonight - come on out to root on the Redskins against Decatur LSA, JV tips at 6:00! Tomorrow - the Lady Redskins take on Salem, JV tips at 11:00 am!
FYI - Tomorrow's (Thursday) HS Girls Basketball game vs Okaw Valley at home will be Varsity only starting at 6:00 pm