Reminder for Tonight: Individuals wishing to attend the high school girls basketball games on Thursday 1/13 at Clinton High School need to purchase an electronic ticket from the following link:
https://gofan.co/app/school/IL15275

Due to health and safety protocols, the SHS Freshman Boys Basketball game at Arcola High School on Monday 1/17 has been canceled.

Individuals wishing to attend the high school girls basketball games on Thursday 1/13 at Clinton High School need to purchase an electronic ticket from the following link:
https://gofan.co/app/school/IL15275

Congratulations to Mason Luck and Clayton Schmohe for earning top 10 honors for toss ups answered during the CIC scholastic bowl regular season! #onetribe!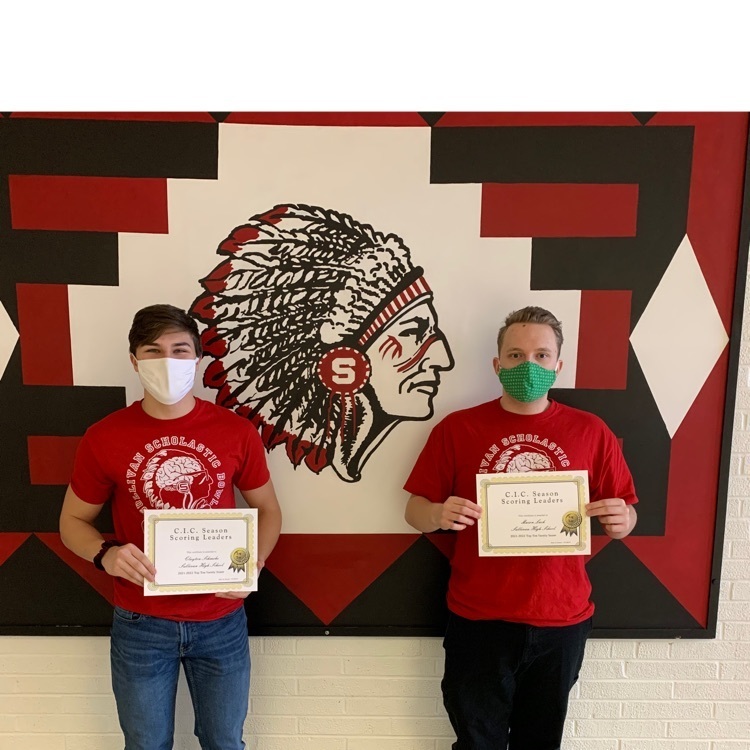 Future Redskin Basketball League signups for any students in 4th, 5th, or 6th grades is open until January 12th. Signup, payment, and practice information is in the attached flyer for those interested.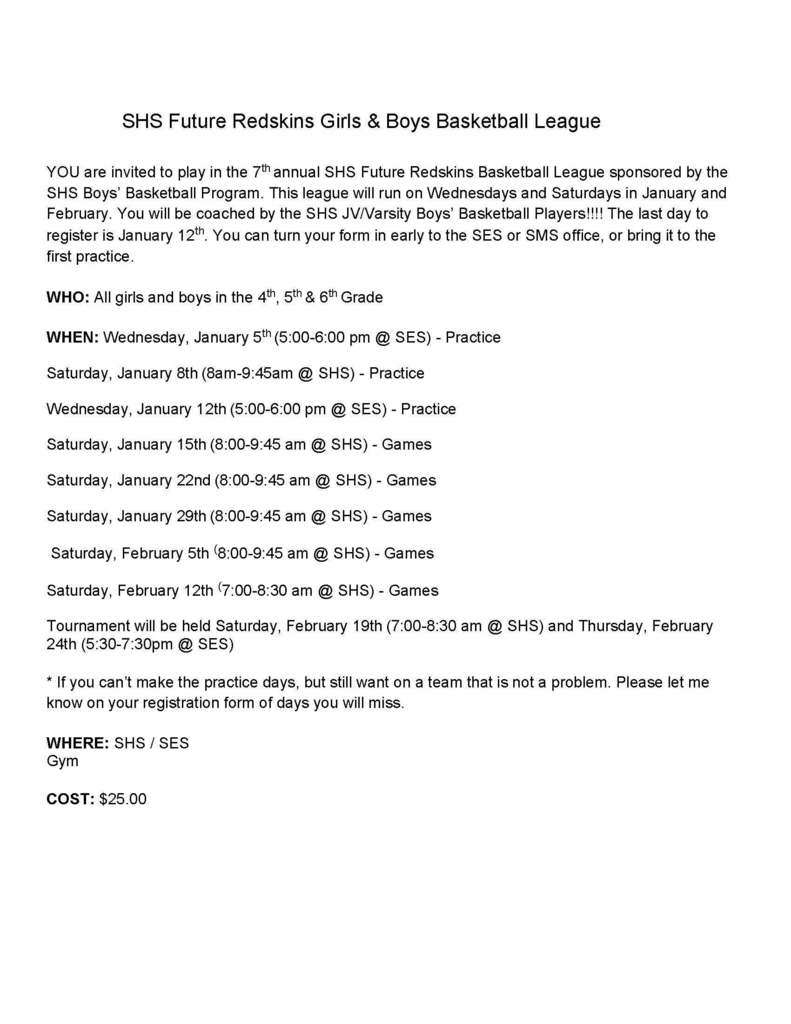 Sullivan High School is in need of a high school boys and girls assistant track coach for the 2022 season. Interested individuals must be ASEP coaching certified. Please email Sullivan High School Athletics Director Ryan Aikman at
aikmanr@sullivan.k12.il.us
if interested.

Tonight the Varsity Lady Redskins take on the ALAH Knights @ 7:30 in the Sullivan Gym. Unable to make it? Watch it live on our YouTube channel.
https://youtu.be/f4N7b_37h0U

After initial pool play, the SHS Boys Basketball team will face OPH in the 7th place game of the Dieterich Holiday Tournament at 1:00 PM today in Dieterich.

After initial pool play in the Knights Holiday Classic, the Lady Redskins will face Shelbyville for 5th place at 3:00 PM in Arthur

Updated Holiday Tournament Schedules are below for the SHS Girls and Boys Basketball teams: *For SHS Girls Basketball at the Arthur-Lovington-Atwood-Hammond Knights Classic, they play on the following dates in Arthur: Wednesday December 22nd against Arthur-Lovington-Atwood-Hammond at 7:30 PM. Thursday December 23rd against Stewardson-Strasburg/Windsor at 11:30 AM. Thursday December 23rd. The Lady Redskins will then play a second game on this date to be determined based on initial tournament results. *For SHS Boys Basketball at the Dieterich Holiday Tournament from December 27th through 29th, they play on the following dates in Dieterich: Monday December 27th vs. Dieterich at 11:30 AM. Tuesday December 28th vs. Red Hill at 1:00 PM and Arcola at 4:00 PM. Wednesday December 29th against an to-be-determined opponent based off initial tournament results.
Do you want to work for an amazing school district in Central Illinois? Sullivan School District 300 is looking for an Elementary Physical Education Teacher for the 2022-2023 school year. Responsibilities include planning and implementing physical education activities, monitoring students, evaluating student outcomes, recording and maintaining student information, and communicating with all parties involved in the education of the student. There are numerous potential coaching opportunities and an athletic director stipend that may be available for qualified candidates. Send a cover letter, resume, and references to Leslie Guyot at Sullivan Elementary School (910 N. Graham St. Sullivan, IL. 61951) or
guyotl@sullivan.k12.il.us
. Deadline to apply is January 3, 2022.

The SHS JV Girls Basketball game at Okaw Valley tonight in Bethany at 6:00 PM will consist of two 7 minute halves. Because of this, plan to arrive early if attending the Varsity contest.

Individuals attending the SHS Freshman Boys Basketball games tonight 12/16 at 6:00 PM at the Sullivan Elementary School gym need to park in the parking lot off Graham street.

Congratulations to Sullivan High School alumnus Stephanie (Monroe) Jurgens on winning the Sullivan Sports Boosters Vacation Raffle this past Tuesday! A big thank you to all the Sullivan Sports Boosters members and Coaches Badman, Bertetto, Taylor, and Earl for selling tickets along with anyone that purchased them. Your support of Sullivan Student Athletes is greatly appreciated!

*Please Share!!* As we all know, there was horrendous destruction seen throughout several states due to tornados last Friday. To help support some of the communities impacted, as an FFA chapter we are collecting goods and funds to be distributed. The agriculture programs in at least three school districts in KY were heavily damaged in addition to countless homes and businesses. Illinois FFA chapters are partnering to deliver goods directly to the local agriculture programs impacted. Funds will be used to purchase pallets of goods to be delivered, for example... -- $770.70 Pallet of Toilet Paper -- $305 Pallet of Water -- $329.40 Pallet of Paper Towels -- $22. Case of soup (24 cans) -- $18 Case of veggies (24 cans) -- $12 Chef Boyardee soup (12 cans) -- $9.60. Del Monte Veggies (12 cans) Items needed: not complete but a start... personal hygiene items- deodorant, toothpaste, and brushes, etc clothing- (underwear was specified) canned or other non-perishable food duct tape water cleaning supplies- paper towels and supplies blankets pet food flashlights batteries towels sheets tarps work gloves headlamps Gatorade/Powerade 4" Screws $25 gift cards (Walmart, VISA, etc.) Storage Totes Toys Over the next two days, we will be collecting funds through a 'Pack the Pig' penny war between first-hour classes. The class with the piggy bank with the most collected Friday afternoon will receive donuts during our first week back in January. We will also have a piggy in the ag room for any additional donations! Donations of goods will be accepted in the collection boxes high school office or the ag room. This is a great way to directly support those impacted. Please see Ms. Krumwiede or an FFA member with questions!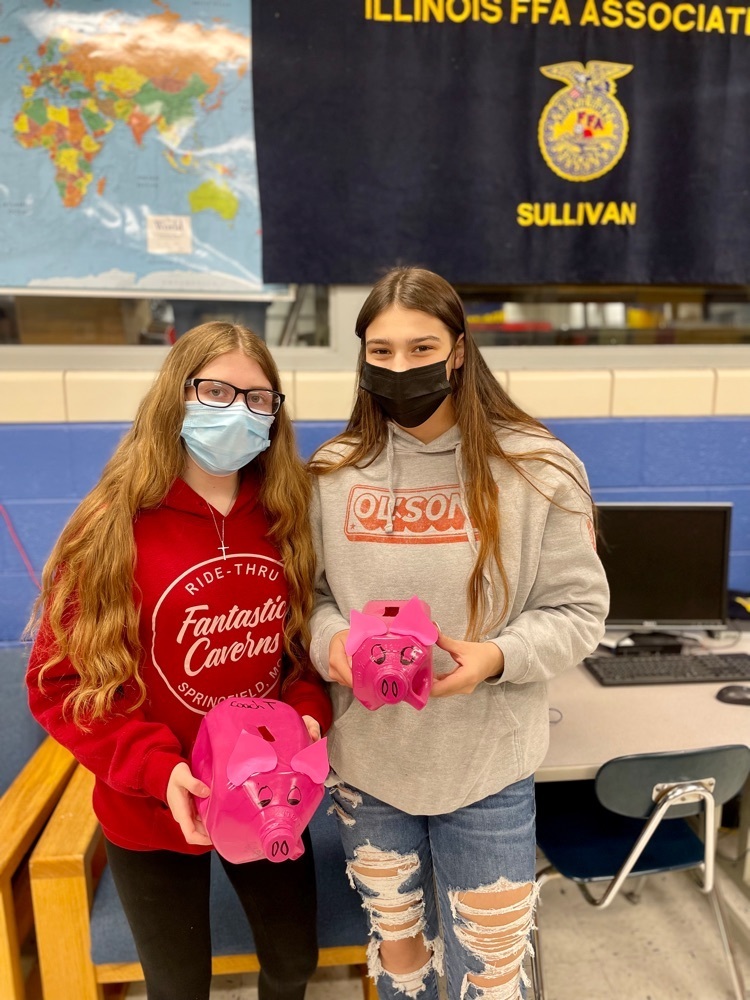 The students in Kindergarten - 2nd grade would like to invite the community to their Christmas program on Thursday, December 16th at 6:30 p.m. in the HS gym. Students should be dropped off at the HS Commons between 6:00 and 6:15. Please remember that per the Governor's mandate, masks must be worn within public school buildings. All students should be wearing their mask when they arrive. Contact the elementary school office with any questions 217-728-2321.

The Sullivan Sports Boosters are in the final days of selling raffle tickets for their fundraiser to benefit Sullivan School's sports programs. The prize package includes the following: A $4,000 Omni Gift Card and $1,000 Visa Gift Card for travel and/or activity expenses OR: A $3,000 Visa Gift Card Tickets are $25.00 apiece and will be sold leading up to the drawing during halftime of the SHS Varsity Boys Basketball game on Tuesday December 14th. Contact the following Sports Boosters if interested in purchasing a ticket: Scott Fleener-217-855-0497 Nicole Monroe-217-549-1561 Patti Waidelich-214-325-5381 Thank you in advance for your support of Sullivan School athletes!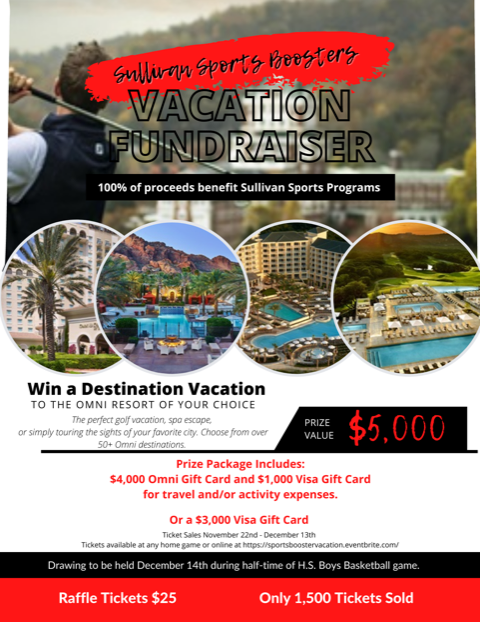 We are so proud of our FFA Parliamentary Procedure and Conduct of Chapter Meetings teams! Varsity Parliamentary Procedure placed 3rd in our Section 16 contest with Matthew Wesselman placing 7th as an individual floor member. Conduct of Chapter Meetings placed 2nd and will advance to the district competition! Congratulations to Mason Booker for receiving 5th place as an individual!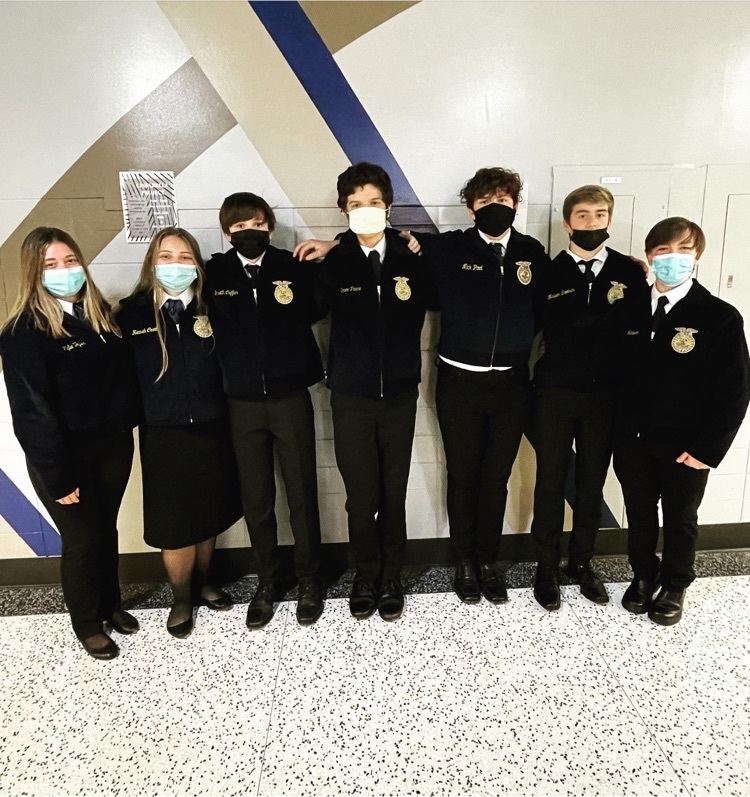 SES Parents...Update on PTO Fall Fundraiser pick-up TODAY...only frozen items were delivered for pick-up today. The non-frozen items such as wrapping paper, kitchen gadgets, (etc.) were accidentally left off the delivery truck. We have been guaranteed deliver of these items TOMORROW (Thursday 12/9) and will send a message out as to a time for pick-up or will send items home with students.
SES Parents...This is a reminder of the PTO Fall Fundraiser pick-up today, in the SES Lobby from 3:00 - 5:30p.m.. Please use the East side entry doors for pick-up. If you have any questions, call the SES office at 728-2321. Thank you!