Attached is the updated 2020 Block Calendar Schedule, including remote days and holidays for the SHS and SMS.
https://5il.co/kz8d

Congratulations to Senior Boys Golfers Drew Rogers, Leyton Ellis, Logan Westjohn, Kanin Elder, Matt Welch, and Ian Plank as they were honored today prior to their last home golf match against Effingham! #onetribe!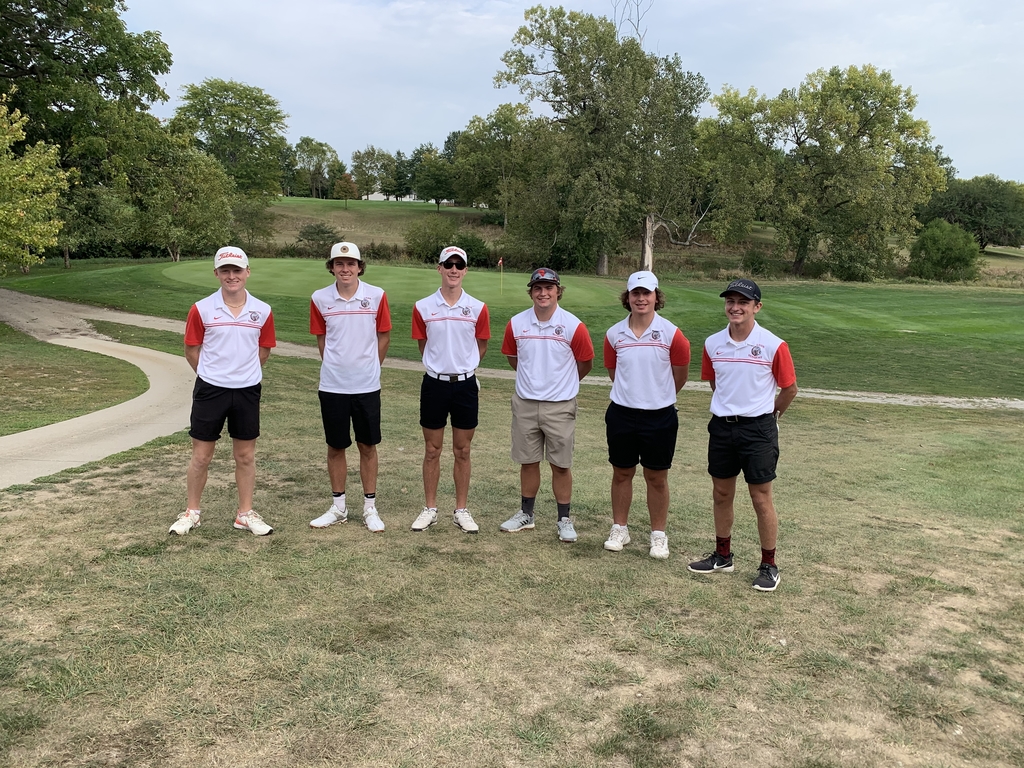 Senior night for SHS Boys Golf will be this Wednesday 9/23 at the Sullivan Country Club at 4:00 PM. Coach Richter will begin recognizing the senior boys golfers and their parents at 3:45 PM prior to the match against Effingham.

The Sarah Bush Dental Bus services will be available FREE to ALL students again this school year. If you want your student to receive these services please fill out the dental bus form. Forms will be sent home with ALL SES students and also 6th and 9th graders. You can also print the form off of our school web page or call and we can send a form home with your student. Thank you Mrs. Moore School Nurse

The SHS Girls Golf team will not be competing today 9/15 at Okaw Valley.

Picture Day is coming up on 09/22/2020! SHS Order online at inter-state.com/FlyerEntry/52871KF SES Order Code: 52870E SMS Order Code: 52871G

The SHS Cross Country meet originally scheduled for today at Bement High School has been postponed to Wednesday September 9th at 4:15 PM due to the projected weather forecast.

The SMS Cross Country meet scheduled for today at Little Galilee in Clinton will begin at 4:00 PM

Sullivan Schools will be providing breakfast and lunch to all students at no charge through the month of December. We encourage all students to take advantage of this opportunity. Additionally, meals were sent home with some of our students this afternoon. Be sure to check your child's backpack. Additional details will follow as information becomes available.
SES Parents, Just a reminder of our Remote/Blended Learning Days on Thursday and Friday (September 3 & 4). Students will not be in-person learning, but all students will be remote learning from home. Teachers sent home schedules for the Remote/Blended Learning Days last Friday, so if you do not have the schedule, please contact your child's classroom teacher. Make sure the classroom teacher has an updated contact number for where your child can be reached during the school day on Thursday and Friday. The Remote/Blended Learning Days are an opportunity for teachers, students, and parents to practice remote learning should there be another extended closure of schools similar to the closure back in March due to Covid-19. Please contact the school with any questions.

Individuals attending today's SHS Cross Country meet can park in Wyman Park. The parking lot at Tabor Park will be closed for meet personnel only.

The SHS Girls Golf match scheduled for today 8/25 hosted by Champaign Central has been cancelled.

Just a reminder that for those attending the SHS Cross Country meet today at Little Galilee in Clinton that IDPH requires that spectators wear face coverings when attending
SES Parents....Thank you so much for your patience and understanding as we navigate the beginning of the school year. The week has been absolutely fantastic and the students are excited to be back into the school routine. I wanted to communicate a change to our ARRIVAL procedure at SES. We are going to open up the East side of the school for vehicle drop-off in the mornings. Please do not drop off students at the entrance door as buses will be arriving, but you can drop your students off at the playground entrance and the student can walk on the sidewalk to the East side main entrance. Dismissal procedures will remain the same. Contact the school if you have any questions.

For those attending the SHS golf match this afternoon at Eagle Creek, please see the attached guidelines from Okaw Valley High School to follow this evening.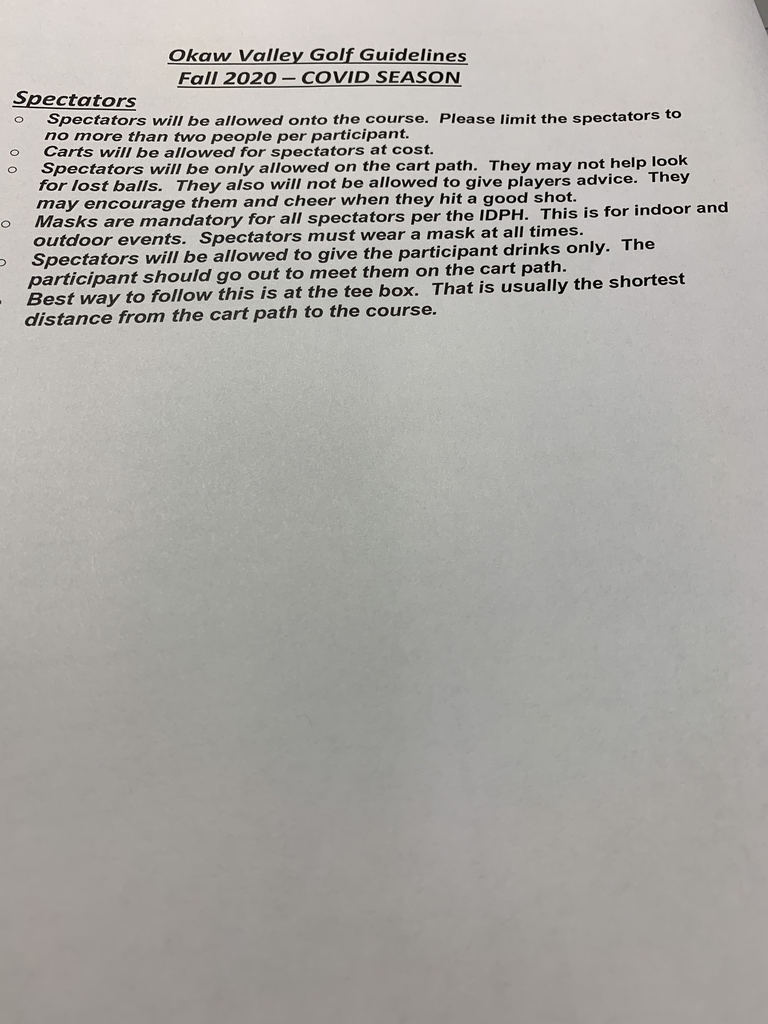 Due to IDPH regulations, all spectators attending a Sullivan schools indoor or outdoor athletic event must wear a mask at all times. This includes events held on campus or off campus at places such as parks and golf courses.

Have you completed your 2020 Census? Do it NOW!
www.2020census.gov
Completing your census is like giving $1,500 per year for the next 10 years to an organization in your community such as your school, library or for roads and infrastructure. Take that number, and multiply it by every person in your household; that is how important completing your census is to support your local community!

Just a reminder that the SHS Fall Sports player parent meeting for those interested in high school boys and girls golf, cross country, and girls swimming is at 6:00 PM tonight in the following locations at the high school: Boys Golf: South bleachers of SHS gym. Girls Golf: North bleachers of SHS gym. Cross Country: SMS gym Girls Swimming: SHS Media Center The sports of football, football cheer, and volleyball that were originally scheduled to be a part of this meeting will be postponed and met with on a future date in the spring. Everyone attending the meeting must wear a mask upon entering the school building as a part of mandatory guidelines from the Illinois Department of Public Health.

Reminder: SHS Fall Sports practice for the sports of Boys and Girls Golf, Cross Country, and Girls Swimming begins on Monday August 10th. Please contact the following coaches below if interested in participating with any questions: Boys Golf: Ben Richter at
richterb@sullivan.k12.il.us
Girls Golf: Andy Wagner at
wagnera@sullivan.k12.il.us
Cross Country: JD Graham at
grahamj@sullivan.k12.il.us
Girls Swimming: Nichole Hendry at
hendryn@sullivan.k12.il.us
Students must be registered with Sullivan High School and have a current sports physical on file with the high school office prior to being allowed to practice on August 10th.

Reminder: There will be an SHS Fall Sports Player/Parent Meeting on Monday 8/10 at 6:00 PM for those high school students interested in boys and girls golf, cross country and girls swimming. The meeting locations for each of the groups is below: Boys and Girls Golf will meet in the SHS Gym. Cross Country will meet in the SHS Commons. Girls Swimming will meet in the SMS Gym. Everyone attending the meeting will need to wear a mask upon entering the school building as a part of mandatory guidelines from IDPH.