| | | | |
| --- | --- | --- | --- |
| | | | |
| | Before first day of school | | Dentist's exam during the school year OR SBLHC |
**All physical, vision, and dental exams are good for one year
Vaccinations include: DTAP 5 doses, Polio 4 doses, Hep B 3 doses, MMR 2 doses, Varicella 2 doses, Hib 3-4 doses.
*Religious exemptions for vaccinations only: Illinois state form to be completed and signed by a physician.
Sarah Bush Lincoln Dental Bus Service

All students are eligible for a FREE dental exam at school with a signed permission form. The permission form MUST be turned in by the 1st week of school.
All prescription medications must be bubble wrapped.

Medications must be brought to the nurse's office and signed in by a parent/guardian.

All medications, including over the counter medications, have to have a medication permission form completed and signed by a physician and the parent/guardian.

Over the counter medications need to be in the original packaging (new bottle preferred).

Inhalers are kept in the nurse's office.
When is my student considered sick?
You will be contacted to pick your student up from school if he or she is throwing up, has a temperature over 100 or has live head lice.
When should my student stay home?
One of the more difficult decisions parents begin to make as their student starts school is knowing when a child is too sick to got to school. The image below should be used to help make the decision.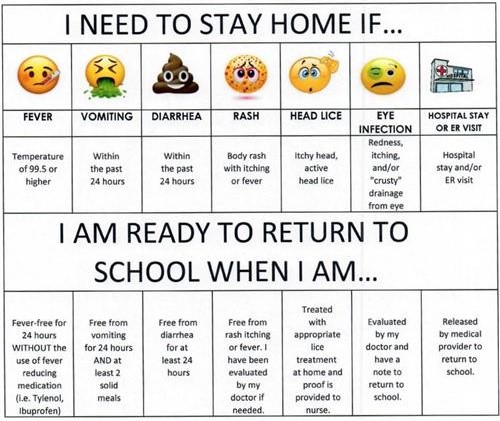 Other Registration Requirements

School Information
FAQs
Please email guyotl@sullivan.k12.il.us with any questions that you may have. We look forward to working with your student and your family through the next few years!